Larry Linville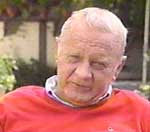 Born September 29, 1939 in Ojai, CA. Died April 10, 2000.
Larry Linville, better known to the American public as Major Frank Burns in Twentieth Television's classic comedy M*A*S*H, gave up his degree in engineering to pursue a career in acting.
After graduating from high school in Sacramento, Linville attended the University of Colorado, where a desire to fly jets led him to major in engineering. But a gnawing interest in acting caused him to quit and join the Nomad Players who performed at a civic theater in Boulder, Colorado.
He starred in many shows with the group, but Linville remembers most fondly his role in Tennessee Williams' The Glass Menagerie.
In 1959, Linville competed for a scholarship to the Royal Academy of Dramatic Arts in London. He attended the prestigious school until 1961, honing his craft with the likes of Tom Courtenay, Sarah Miles, Jane Merrow, John Hurt, Ian McShane and David Warner.
Upon returning to the States, Linville joined the Association of Producing Artists where he spent eight years of repertory, performing with them, the Barter Theater in Virginia and the San Diego Shakespeare Festival.
Linville made his debut on Broadway in Eugene O'Neill's More Stately Mansions, starring Ingrid Bergman. In Los Angeles, he appeared in The Matter of J. Robert Oppenheimer at the Mark Taper Forum. He also played Glenn Cooper in Neil Simon's Rumors at the Broadhurst Theatre.
On the small screen, Linville first was featured in Twentieth Television's Judd for the Defense. Linville recalled, "Then I spent three years throwing old ladies down stairs, poisoning Greg Morris and pounding Darren McGavin in Mission: Impossible, Mannix, The F.B.I., Room 222, Bonanza, Marcus Welby, and The Young Lawyers."
It was his role in Room 222 that brought the actor to the attention of producer Gene Reynolds, who later cast Linville as Frank Burns in M*A*S*H.
Linville left M*A*S*H after the fifth season. At the end of his five-year contract, he felt he had accomplished everything with his character. Linville was proud of his work on M*A*S*H, but he didn't want to be forever type-casted as a "Frank Burns"-like character.
After M*A*S*H, Linville guest starred on numerous television series and had regular roles in Grandpa Goes to Washington, Checking In, and Paper Dolls. He also appeared in Night Partners, a telefilm. He performed in such films as School Spirit, Earth Girls Are Easy and Kotch.
In 1998, Linville was diagnosed with Cancer and underwent surgery to remove part of a lung. Throughout the 80s and 90s he kept active in regional theater, performing plays such as A Christmas Carol. He also often lectured at colleges and designed, built and flew one-of-a-kind aircraft.
Larry Linville died on April 10, 2000 from at complications of pneumonia at Memorial Sloan-Kettering Cancer Center. He is survived by his wife, Deborah, his daughter Kelly, his mother Pauline and father Harry, two brothers, Paul and Lanny, and sisters-in-law, one niece and three nephews.
Pictures

Home

Filmography