Harry Morgan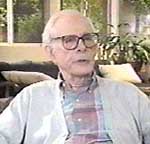 Born April 10, 1915 in Detroit, MI. Died December 7, 2011
(given name: Harry Bratsburg)
Harry Morgan has the distinction of starring in eleven different television series, dating back to the 1950s. Yet no role in this distinguished actor's career has brought such critical acclaim or personal satisfaction as that of Colonel Sherman T. Potter, the commanding officer he portrayed on Twentieth Television's M*A*S*H.
Born Harry Bratsburg on April 10 in Detroit, Morgan intended to become a lawyer until public speaking and debating classes at the University of Chicago stirred his interest in the theater.
While working in Washington, D.C. during a summer vacation, he joined a small theater group and ultimately made his professional acting debut in At Mrs. Beam's with Frances Farmer and Mildred Natwick. From summer stock, Morgan moved up to Broadway, where he spent two years in the original production of Golden Boy, whose cast included Karl Malden, Lee J. Cobb, Luther Adler and Martin Ritt. In 1942, Morgan moved to California and was spotted by a Twentieth Century Fox talent scout after appearing in William Saroyan's one-act play, Hello, Out There.
Morgan has been seen in more that 50 films since he debuted in The Ox Bow Incident. Some of the highlights of his career include: High Noon, What Price Glory?, My Six Convicts, The Glenn Miller Story, Inherit the Wind, Strategic Air Command, Viva Max!, Support Your Local Sheriff, and the remake of Dragnet.
On television, Morgan's face is very familiar to viewers. In the 1950s, he starred in December Bride, and subsequently its spinoff Pete and Gladys. He was a regular in Kentucky Jones, The Richard Boone Show, Dragnet, The D.A. and Hec Ramsey, before he was introduced on M*A*S*H. During his years on the hit series, he received an Emmy award for Best Supporting in a Comedy Series. He then starred in Twentieth Television's M*A*S*H spinoff AfterMASH, and has since done two other series, Blacke's Magic and You Can't Take It With You.
Along with his roles on regular shows, Morgan has guest starred on The Love Boat and a Paul Lynde special. he was in telefilms such as Murder at the Mardi Gras, Kate Bliss and the Ticker Tape Kid and The Bastard.
When not performing, Morgan likes to read books about history, the legal profession and poetry. He used to raise quarterhorses at his Santa Rosa, California ranch.
Harry Morgan has four children by his first wife, Eileen, who passed away in 1985. He married Barbara, his second wife, in 1998. His son Chris is a TV producer, and two of Chris's children are in the film business also.
In 1996, Harry Morgan was arrested for beating up his wife. The couple were drinking and fighting at a party and the fight escalated after they returned home. The charges were dropped after Harry agreed to attend classes on spousal abuse. His most recent acting work included a guest role in a few episodes of 3rd Rock from the Sun in 1996 and in the 1997 movie Family Plan. Harry Morgan died on December 7, 2011 in his home in Los Angeles; not long before he had been treated for pneumonia.
Awards:
Gold Award of Purple Heart Veterans Rehabilitation Service (197?)
Emmy for Outstanding Supporting Actor in a Comedy or Variety or Music Series (1980)
Pictures

Home

Filmography
Thanks to Jeremy Morgan for some info.